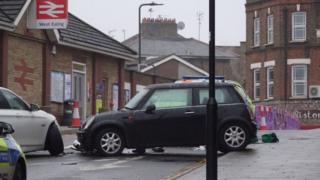 A man has died after being found fatally stabbed in a car outside a railway station in west London.
Murder detectives believe the 26-year-old victim was injured in a fight near to West Ealing railway station and was then involved in a car crash on Drayton Green Road shortly before 01:20 GMT.
Police have also quashed rumours the man was killed in a "road rage" attack.
So far there have been no arrests as detectives continue to investigate the man's murder.
The victim's family is aware and a post-mortem examination will be held later.
Det Insp Neil John said: "We believe the victim was involved in an altercation 100m from the railway station on The Avenue.
"This is a busy street with a number of shops and restaurants and if anybody was in the area and saw something, no matter how small, I would urge them to contact police."
Ruth Holmstock, 72, whose flat overlooks the scene of the crash, said she heard a single "thump" in the early hours.
She described it as "the sort of noise you make when you reverse into a gate, but it was loud enough to make me go and see what it was."
"There were a lot of people hanging around. It looked like any other crash, like they were swapping insurance details," she added.
Kiran Ramachandraiah, who lives in the same block of flats, said he woke up at about 02:00 to see paramedics trying to revive the victim.
"I couldn't see the person," he said. "He was completely surrounded by police and paramedics."
The attack follows a fatal stabbing in Whitechapel on Saturday, in which another man in his 20s was killed.
Six men were arrested on the suspicion of murdering a 27-year-old at a flat party in Buckle Street.
security camera installation perivale